Information about Frodo:
---
Frodo is stationed at home:
Margot Holthinrichs
Stal Holthausen, Hoevenweg 15b 7722 PM Dalfsen. Covering money: €425 (including Society-part)
holthinrichs@gmail.com 0031640594446
---
Frodo was given the predikaat "Keur" in 2020, because he has improved the quality of his offspring and has a positive influence on the ponies in Holland. In 2017 he was given a 1st Premie for his breeding results and has also been licenced for 3 years. National Champion 2017 of Holland and Danmark were his daughters!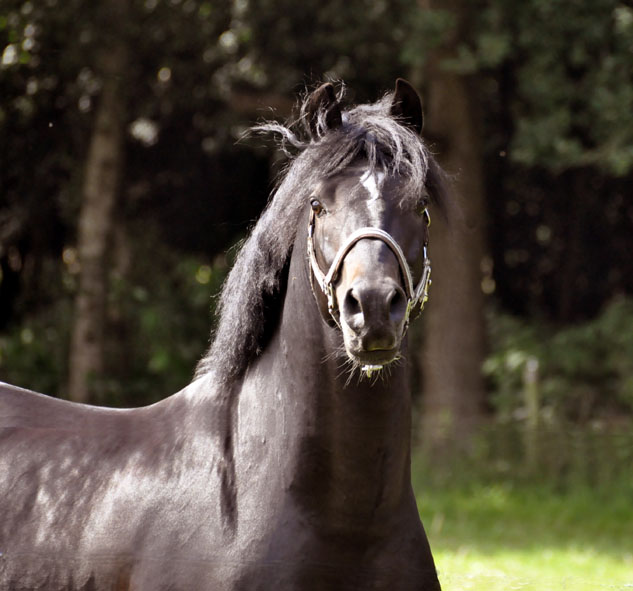 Frodo was in 2013 available for mares at Stutteri Flintdale and Thorup Hjallerup Hingstecenter in Denemarken
Frodo and Mathilde Nielsen at the stallionshow April 14th: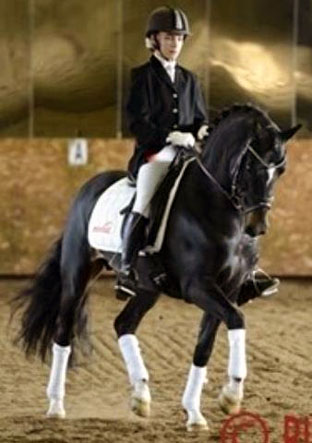 (photos below by Danish photographer Helena Gaardboe)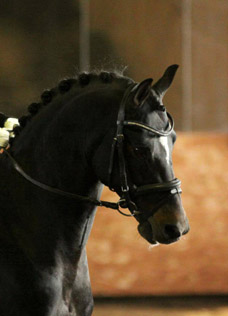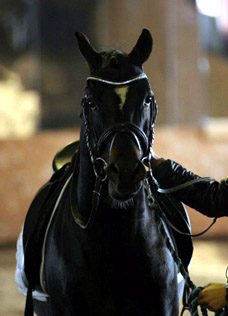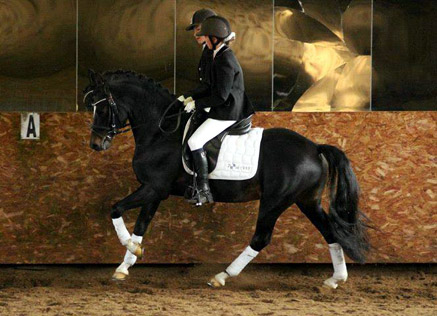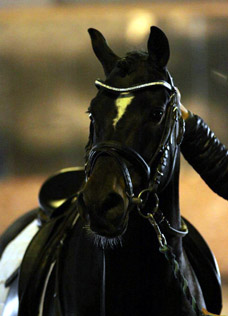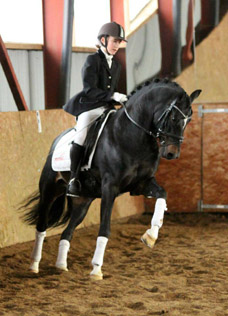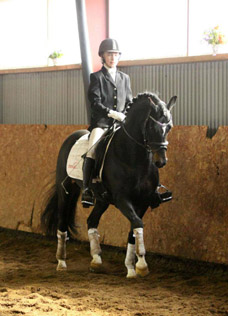 ---
Frodo is stationed at home:
Margot Holthinrichs
Stal Holthausen, Hoevenweg 15b, 7722 PM Dalfsen. Covering money: €425 (including Society-part)
holthinrichs@gmail.com 0031640594446
---
2020: predikaat "Keur" was given to him and he has approved grandsons and many of his offspring have titles in show, breeding and sport. 2012: Frodo already has 1 licenced son, 2 Star stallion, 1 Star gelding, 7 Crown mares, 10 Star Mares, 1 National Champion, 2 Regional Champions, Best Colt Belgium, 15 first class foals!
In 2013 he got the title Prestatie Stallion. He was already dressage Z1 and jumping M (Z2 is the highest class).
In 2016 he was rewarded a 1ste Premie on the Central Stallion Show because of his offspring.
In 2017 he was licencend for a period of 3 years because of his offspring.
His daughter Famous Grouse has the title Prestatie Pony, she is ZZ driving, the highest class in Holland.
His children perform very well in dressage, jumping, cross and driving.
Frodo was paid tribute as "Prestatie"stallion at the Central Stallionshow 2013:
watch the clips :
http://www.youtube.com/watch?v=WmAn9dgk7eU
http://www.youtube.com/watch?v=03D5OG2YzA4
http://www.youtube.com/watch?v=-Yp142zdFBk
Frodo's mother Nienna walks free in the woods when we go riding, a good character breeds through,
see page: Nienna los mee.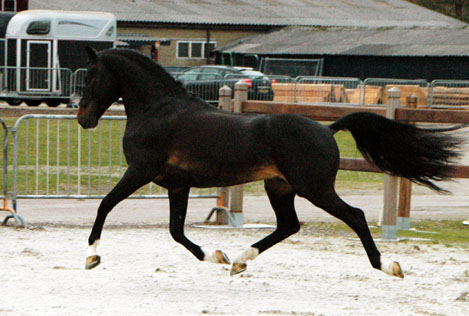 Holthausen Frodo II at the CHK 2012.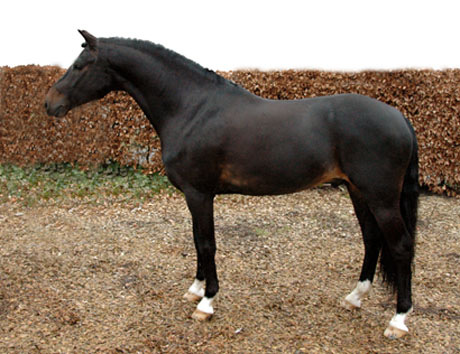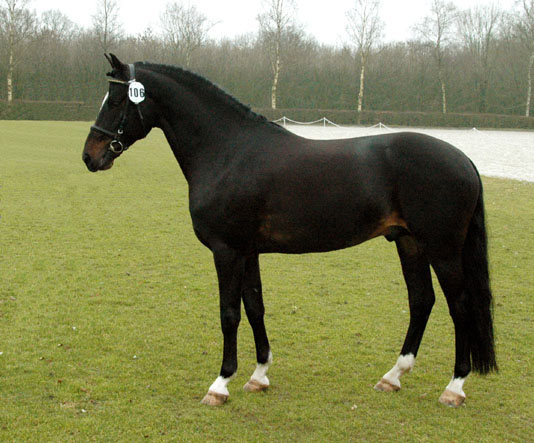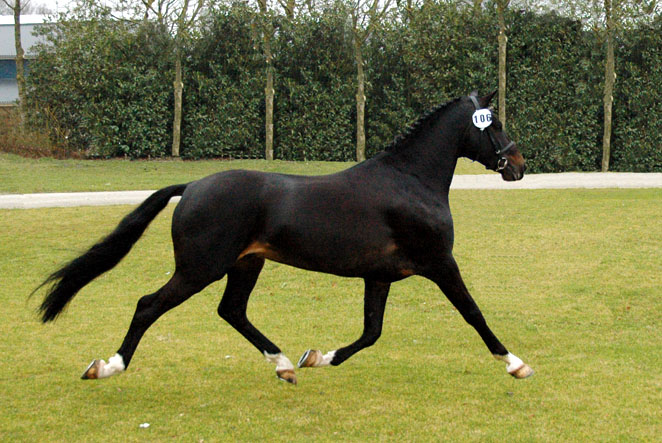 CHK Ermelo 2010: Holthausen Frodo II was first in his year onthe Stallion Show. In the final battle he was second. His father Orlando was made Champion of the day. Father and son, together in the ring,a beautiful sight. The jury said: "Frodo is still young, he will get his chance when he is older".
Frodo was very succesful in riding, drssage and show jumping. He got a 9,5 for his canter! He was second in the large group of ridden stallions, his marks:
| | | | | | | | | | | |
| --- | --- | --- | --- | --- | --- | --- | --- | --- | --- | --- |
| Walk | Trot | Canter | Balance | Technical jumping | Jumping between the fences | Character and will to work | Impression as dressage pony | Impression jumping pony | Way of riding | Total score |
| 8,5 | 8 | 9,5 | 9 | 6,5 | 7,5 | 8 | 8,5 | 7 | 8 | 80,5 |
In the kür with music he really showed all his capabilities, the public was very enthousiastic and applauded loudly. A very succesful day!! Holthausen Frodo II and Josine Blommestijn CHK 2010, they were 2nd in the competition.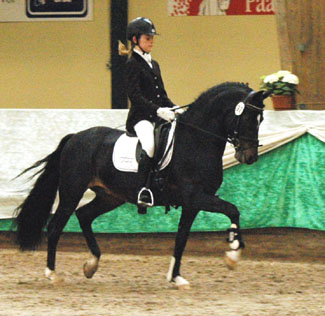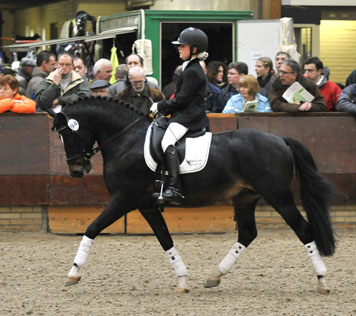 CHK 2009: Frodo and Josine Blommestijn 1st in the Stallion-group-competition. (foto Arlette Beukenkamp)
Frodo: every child deserves a pony like him!!
Below information: Holthausen Frodo from a proven mother line.
Holthausen Frodo II is the son of Crown Preferent Elite mare merrie Holthausen Nienna and Orlando, twice Best Young Stallion, trice Allround Champion on the CHK, ZZ light in dressage (he competes with horses). Like all Holthausen ponies, Frodo's names comes from the books of J.R.R. Tolkien, he is named after Frodo the First, who was born in 1974 as son of Holthausen Freya.
Holthausen Frodo II was geboren 14th May 2005, he was National Champion of all foals at the CMK Ermelo!
Frodo is 1.46m high. He combines all good qualities of his parents Nienna and Orlando. He has excellent movement, inherited from both his parents, has a beatiful exterior, a very chique appearance and a golden character.
Frodo is a playfull happy stallion, he looks first before he acts, is sensible and wants to learn. He is very intelligent, careful and reliable. He is very easy to work with, is obidient and really wants to work. And because of his beautiful colour, 4 white feet, star and little snip he is a 'dream come true' for every mare.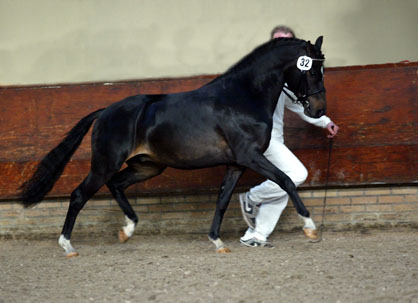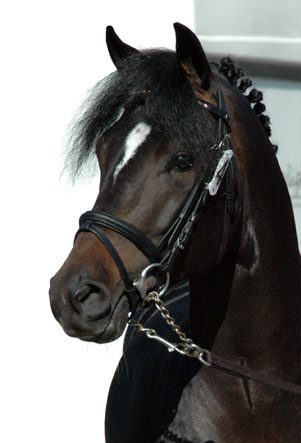 Jury on the Show CHK 2008: Frodo is beatiful stallion and has a great type. He has a beautiful bearing (front), Frodo comes from a very good mare, Crown who had a very good mare-test. He has very big strong movents, so he will develop himself well in sport.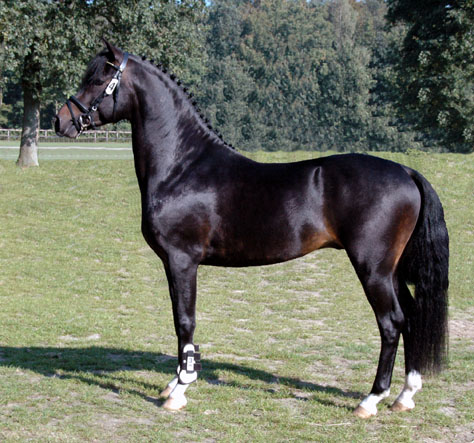 Frodo comes from the bloodline of Holthausen, started in Holland in 1973 when Silverlea Lady's Maid was imported from England. She got the filly Holthausen Elvira ("Prestatie"breedingmare), then Star Preferent mare Holthausen Elanor Elenna (mother of licenced stallion Elitehengst Rohan in Frankrijk and Elessar in Germany), and finally Frodo's mother Nienna (Crown Preferent Elite, "Prestatie"breedingmare).
Frodo's older halfbrother Holthausen Fëanor was licended in 2003 in Germany.
In colour Frodo comes from a dark-coloured mare bloodline. His ancestor Silverles Lady's Maid was dark bay, her mother Silverlea Brownie was brown, Holthausen Elanor Elenna and Nienna are both black, just his great-grandmother Elvira was a dark chestnut. Frodo's children are most bay of dark bay, some are black.
Frodo was prepared well for his test and he passed with very good marks!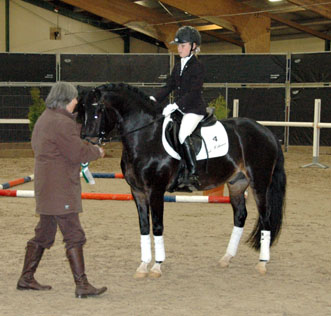 Stap
Draf
Galop
Rijproef
Vrijspringen
Springen
vermogen, techniek: afdruk en landing
Springen
gaan tussen de hindernissen
7,5
7,5
8
8
7
7
7
Terreinrit
Karakter
Werklust
Stalgedrag
Gebruiks-
eigenschap.
Totaal
Gemiddeld
6
7
8
7,5
80,5
7,32
Out of the rapport from the jugdes of the Stalliontest:
Frodo is a attentive, well-behaved, cheerful stalliom who has developed positively during the test. His walk is regular and he moves supple through his body. The trot is spacious. Frodo's canter has rythm and "of the ground", and he has power and suppleness; he seems to go uphill. The ridingtest was very neat, he was steady with his head/body. He was very nice to ride by the guest rider. In the cross Frodo galopped beautyfully, he is a careful jumper. Frodo loves to work, and that shows. His talent for dressage is very great, for jumping and hunting / cross is great. He gives his rider a pleasant feeling; he listens to his rider and is eager to work. In his stable he is very nice and easy to look after.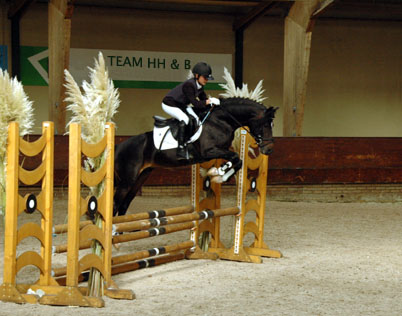 Holthausen Frodo II and Josine Blommestijn Stallion test 2008.
Moeder Holthausen Nienna, Crown Preferent Elite, Prestatie-breedingmare, has succesful children:
Holthausen Gwindor: 3rd round stallion 2003.
Holthausen Fëanor: Licenced in Germany 2003.
Holthausen Mithrandir: placed Young Stallion Show 2003.
Holthausen Ekkaia Elvirië: National Foal Champion 2002, Youth Champion RK Gasselte 2003 and 2004, Star 2005, Crown 2008.
Holthausen Galadriel: 1st premie-mare.
Holthausen Sindar: International dresage, Z2 dressage + 44 points.
Holthausen Frodo II: National Foal Champion 2005, licenced 2008. Z dressage, M jumping.
Holthausen Faramir: 1A premie as foal in 2006.
Holthausen Lórien: Foal Champion op de LV 2009, Star at Young Stallion Show 2011.
Holthausen Eldar: licensed stallion in 2015.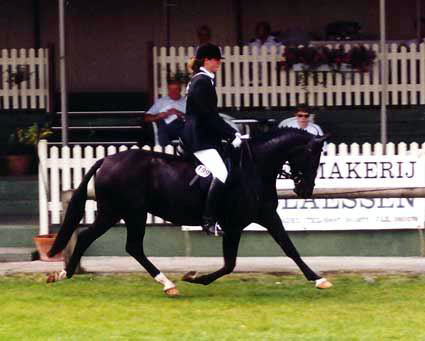 Holthausen Nienna had a good Show carreer as well:
1995: Foal Champion LV Peize
1996: Youth Champion RK Peize, 1A CMK Ermelo
1998: Champion 3-year old RK Peize en Star CMK Ermelo
1999: 1st Ridden Breedingmares in Peize and in Ermelo, Riding Test: four times a 9 and three times an 8: A-premie
2000: Crownmare
2002: 1st RK Gasselte and CMK Ermelo
2003: Reserve Champion RK Gasselte
2007: 1st RK Exloo and CMK Ermelo
2010: Prestatie- breeding mare
2011: Elite
Grandmother Holthausen Elanor Elenna, Star Preferent and supurb jumper is the gandmother of Frodo. She has very succesfull children as well:
Holthausen Nienna: Crown, Preferent. Prestatie breeding mare, Elite
Holthausen Aelin: Champion 3-year old 2003, Star, Prestatiepony, driving pony in class Z.
Holthausen Rohan: National Champion France 3-year old Stallions and licenced in France 2006. Elite-stallion and licenced for all studbooks 2007.
Holthausen Telperion: Star and placed Young Stallion Show 2009.
Holthausen Elessar: Star and licenced in Germany.
Some of her children are doing very well in jumping and dressage.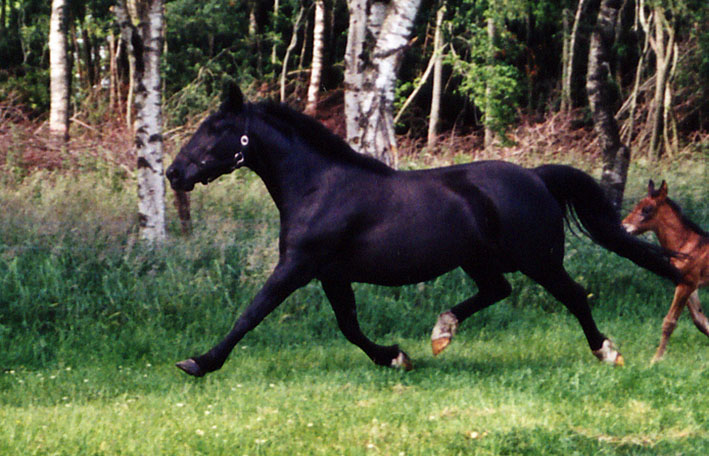 Holthausen Elanor Elenna: extreme powerful wide movement, her children inherited that.
Frodo's pedigree:
Orlando, keur, prestatie dekhengst, prestatie fokhengst, preferent
Feldhof's Orbit, elite
Feldhof's Orator
Duke Forest Oberon
Feldhof's Odine
Feldhof's Madeira
Merrie Millstream
Merrie Michelle
Juna, elite
Maritim I, elite
Marabu
Pepsi
Jill-Allegro, elite
Antonio
Julia
Holthausen Nienna,
Elite, kroon, preferent,
prestatiefokmerrie
Jasper, prestatie fokhengst
Young Winsome's Adrian
Duke's Forest Antares
Winsome's Angela
Astrid
Merrie Moscan
Achterhoek's Liberty
Holthausen Elanor Elenna, ster, preferent
Roy
De Ridderslag Carlo
Tanja
Holthausen Elvira, prestatiefokmerrie
Silverlea Golden Guinea, preferent
Silverlea Lady's Maid
Verdere info over Frodo:
Stal Holthausen
Margot Holthinrichs
Tel. 0031640594446, holthinrichs@gmail.com.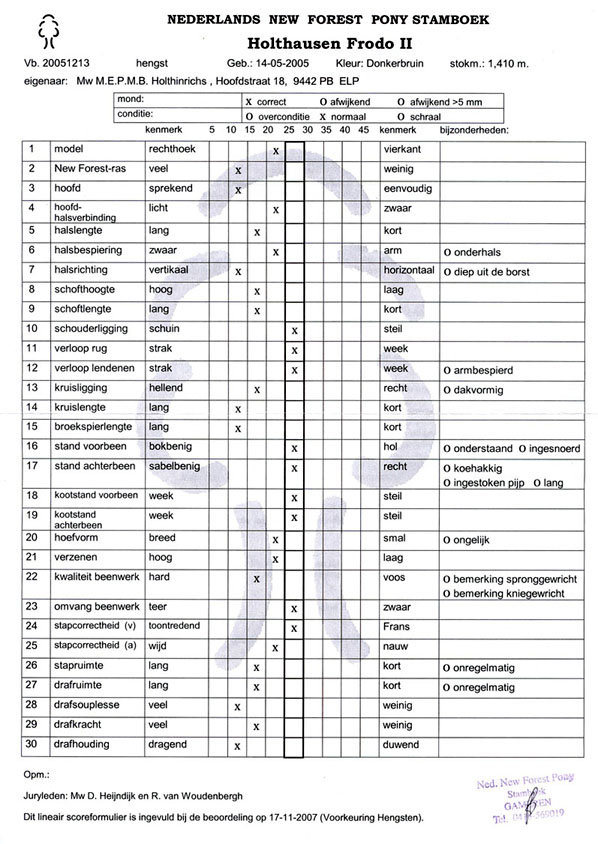 ---